The wines are produced exclusively from the company's grapes. All operations in the vineyard, including the grape harvest, are carried out by hand and vinified within the company cellar. The rosé and red wines are produced with only Sangiovese grapes, with the exception of "Sangue di Leone", in which there is a consistent percentage of merlot .
Having almost exclusively Sangiovese available, red wines are differentiated from each other through the selection of particles with unique characteristics of soil and microclimate. In fermentation and aging we try to respect these uniqueness of "parcel Sangiovese" also through the use of different maturation and refinement techniques.
The art of flavors from the earth to the bottle
Letting yourself be carried away by the river of flavors, admiring Pienza at sunset is something so magical and complex that it would need 'a pen from the past' to be minimally understood..
Our vineyards in Pienza
The soul of our wines
The extension of the vineyards is 13 hectares. The Sangiovese with 10 cultivated hectares is the grape of reference, a mirror for Siena's oenological culture. Merlot, which has become part of the Tuscan tradition from more than 50 years , extends for 1 hectare.
Since 2018 we have decided to focus on Vermentino to produce our white wine, planting one hectare and radically changing the previous setting for this wine which was produced by trebbiano and malvasia . Those, who are also grown on 1 hectare, will be used exclusively for our Vin Santo .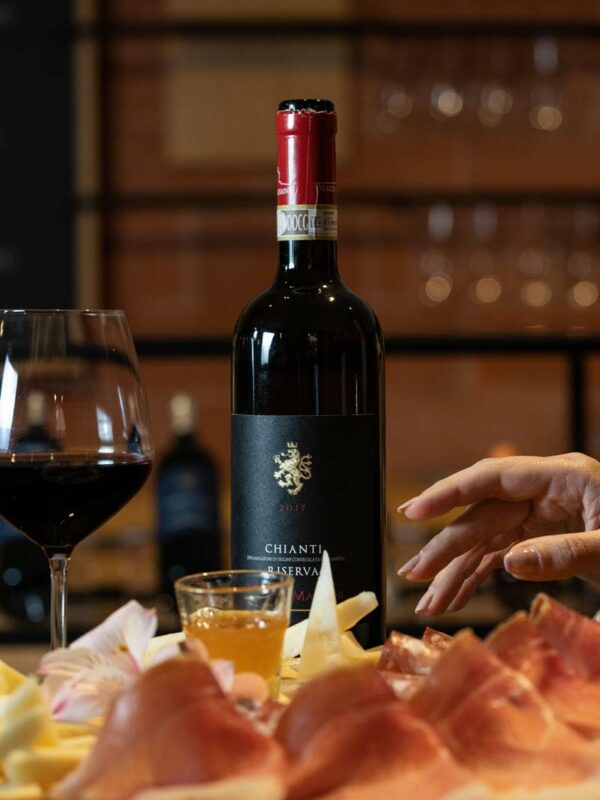 HARMONY OF FLAVORS
Wine Shop
The farm of Palazzo Massaini is located in one of the most prestigious areas of Chianti, just inside Palazzo Massaini it is possible to taste our wines and combine them with the local products, an enchanting and fascinating way to relax in the wide open spaces surrounded by sunsets and breathtaking views or inside our hall.
Our tastings
Food and wine tours in the heart of Tuscany
The Wine Shop is located on the ground floor of Palazzo Massaini. Here you can buy or taste our wines and extra virgin olive oil together of a local cutting board.
For info and reservations (+39) 0578 749102
Classic Tasting
Tasting of 3 wines for €20.00 with 2 service options
– option "Palazzo" IGT bianco, Rosato Orcia DOC, IGT Toscana "Sangue di Leone"
– option "Rosso Massaini" Chianti Colli Senesi DOCG, Chianti Riserva DOCG, IGT Toscana "Sangue di Leone"
Small appetizers and bruschetta with Palazzo Oil offered!
*the experience might be available without booking depending on daily availability.
Tasting with cutting board
Tasting of 3 wines for €45.00 with platter
Option with 3 wines to choose from:
IGT bianco, Rosato Orcia DOC, Chianti Colli Senesi DOCG, Chianti Riserva DOCG, IGT Toscana "Sangue di Leone"
Platter of locally produced cold cuts and cheeses
Vin Santo of Palazzo Massaini and Cantucci
Available by reservation only from 12.00 to 17.00.